Kora 3D for Schools
Kora have worked with Cleapss (the Consortium of Local Education Authorities for the Provision of Science Services) and the HSE (Health and Safety Executive) for over 4 years to help identify potential VOCS (Volatile Organic Compounds) which become airborne through the process of FFF/FDM desktop 3D Printing.
The Universal Kora 3D Printer Safety Cabinet – SC-01 has been tested by the HSE laboratory to enable safe compliant 3D printing for most desktop 3D Printers printing a variety of composition filament types. In addition, the SC-01 Cabinets are complimented perfectly with the Kora 3D Printer Pro. They are plug in and play yet fully 'hackable' allowing fully configurable printer settings to satisfy even the most inquisitive of young minds.

We can help you, your staff and students print safely either with one of our solutions or a bespoke extraction system. We fully advise you to carry out a risk assessment survey, which we can help with, and then you make an informed decision. There are also other considerations like entrapment of ties or hair, added to which burns are a significant risk, all of which the Kora safety enclosure cater for. Either way, the key is to not do anything, so please feel free to chat to us live or drop us an email at customerservices@kora.co.uk.
Featured Products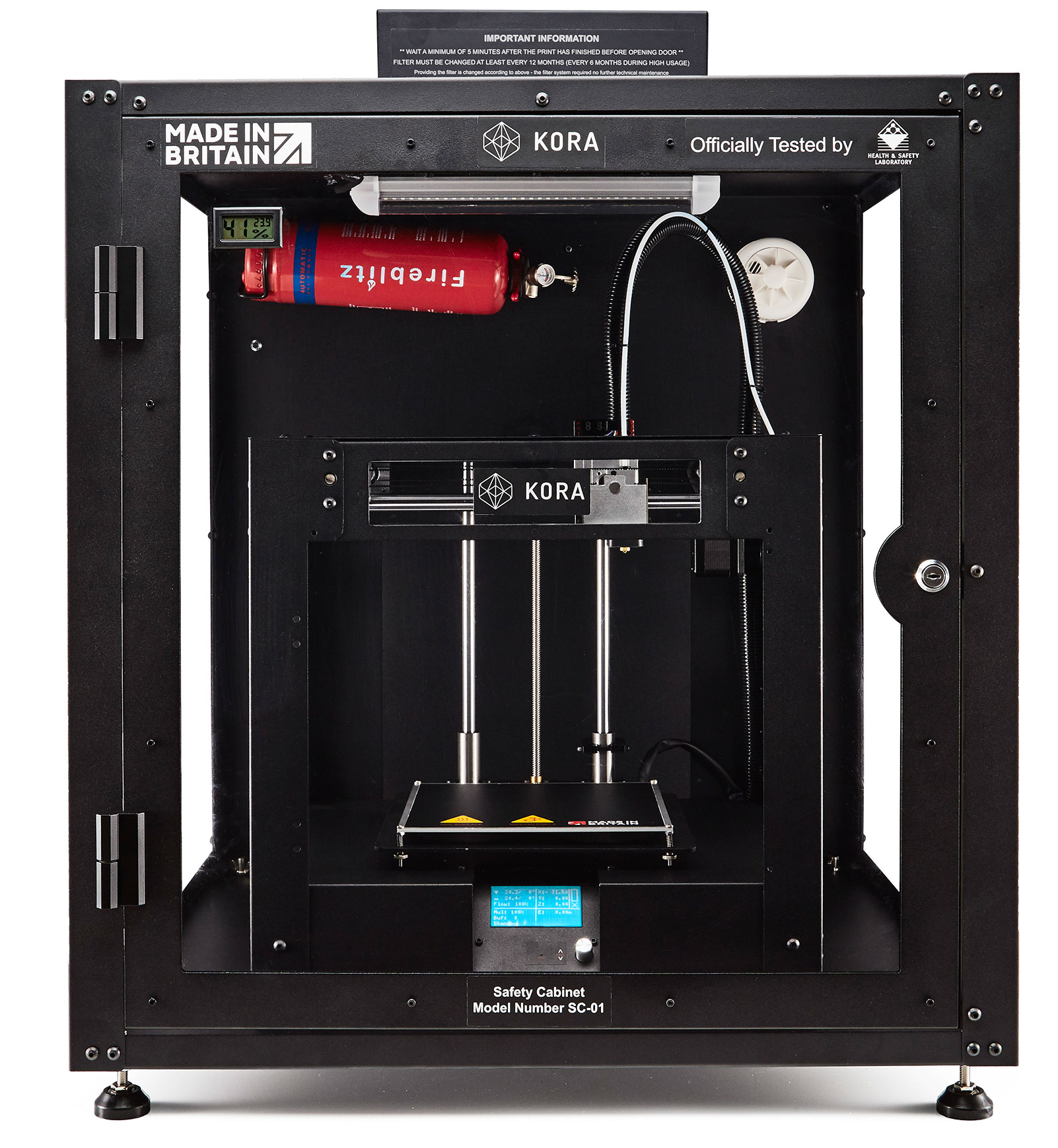 £549.00 (excl VAT)
The Kora 3D Printer Safety Cabinet has been designed in conjunction with the HSE to maintain a safe enviroment in which to 3D print in. Every Educational Establishment is obliged to ensure the health, safety and welfare of all pupils and staff. The Kora 3D Printer Safety Cabinet addresses the risks arising from desktop 3D printing applicable to the Health and Safety Act 1974.
If you own a FFF/FDM desktop 3D printer and you fail to carry out suitable and sufficient risk assessments or fail to put measures in to mitigate those risks, you are likely to be in breach of your responsibilitites and liable to enforcement action including prosecution.
We can help schools and colleges carry out their own risk asessments and offer free advice to remain within the law. Please contact us on the live chat or email healthandsafety@kora3d.com for your free, non obligatory and completely free consultation.
The filter used in the cabinet filters harmful gases and particulates identified by the HSE as causing health issues. In addition to the filtration benefits, the enclosure has a lockable door. This prevents trap hazards such as fingers or hair being caught in the moving parts as well as preventing accidental burns. To top it all, the cabinet provides a stable enviroment for your print builds preventing for example sudden gusts of wind spoliling a print.
The Kora 3D Printer Cabinet will fit the majority of printers on the market, however, please feel free to message on the chat, email or phone, and we can confirm whether or not the cabinet will fit your printer.
£10.95 (excl VAT)
Premium Rub On Adhesive For 3D print beds. Prevents lifting of print and provides a stable platform for the 3D printing process. Refills and 'cash back' schemes available to encourage full re-cycling.
Review From Fuse London
"Very easy to use with the distribution/smoothing pad that covers a lot of surface at once. Is also great that it doesn't layer up like for example glue stick or magicgoo. The formula 3D solution leaves a perfectly smooth and thin layer that bonds well to PLA, PETG, ABS and other 3D printer filaments. Is easy to apply and remove as well, dries out super-fast and has no unpleasant odours. Our bottle lasted a couple months with constant use on 4 printers."
Review From Leeds University
"The F3D is a little gem of a product which works a dream – Prints are adhering to the build plate very well using F3D. In comparison to similar adhesion products and sprays in particular, this is so much easier to use and is far easier to clean after printing. The applicator uses minimal fluid and glides along the print beds quickly and efficiently. We have been using this on our 30+ Ultimaker printers and will continue to do so as the product is really boosting print success and minimising failures from build plate adhesion and warping. Priced well, Highly recommend ! " Rhys.M Additive Manufacturing and 3D printing Services Mechanical Engineering University of Leeds