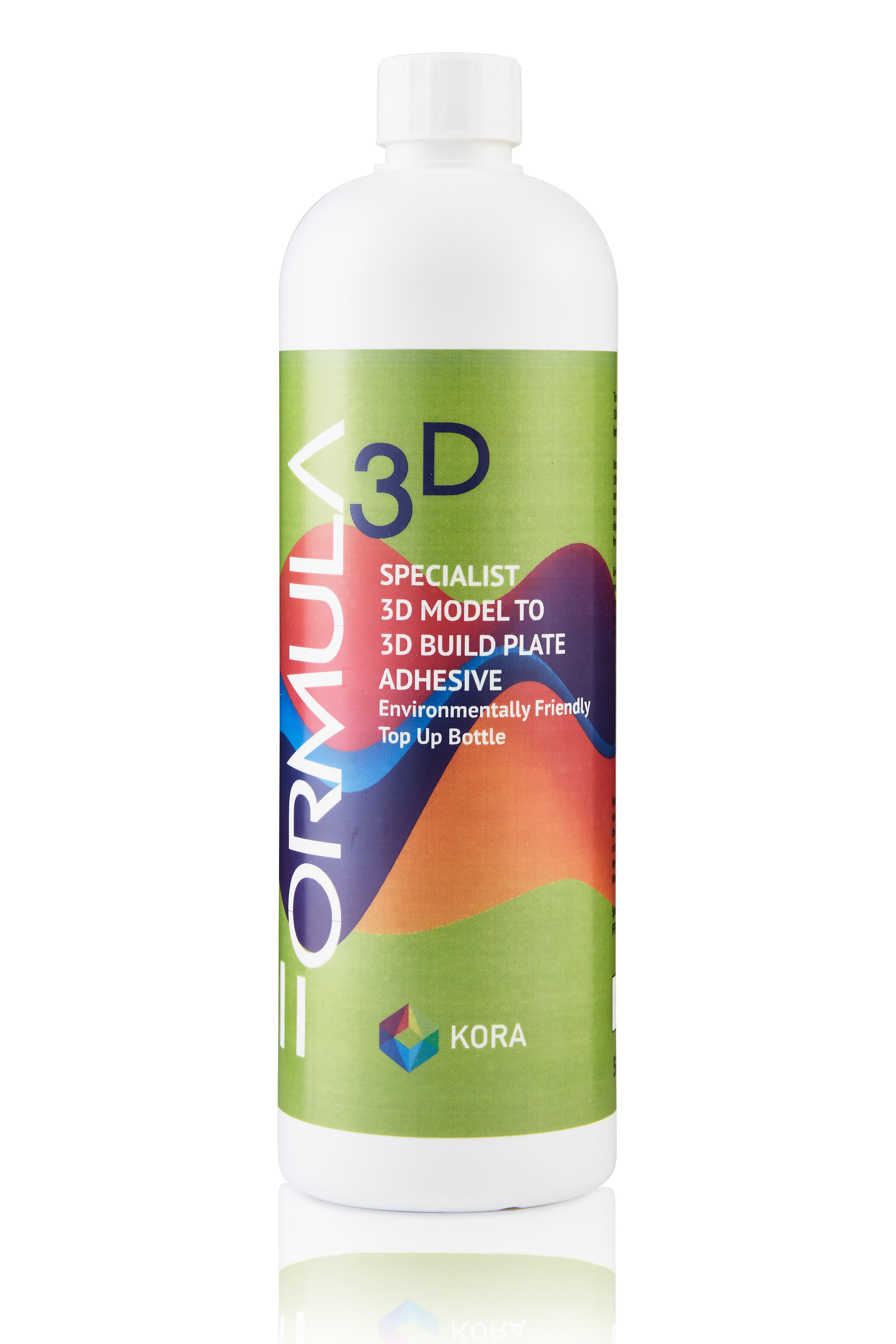 Formula 3D 500ml
Environmentally Friendly Top Up Bottle
Formula-3D is a specialist adhesive that allows you to coat your 3D Printer build plate and MAKE your 3D model prints stick fast! Suitable for most ?laments. Suitable for most build plates
Environmentally friendly. Safe, Odour Free Formula. Suitable for heated (max. 100'C) and non heated build plates.
IT JUST STICKS!
Not considered harmful in normal use following guidelines below:
Avoid eye contact – if this occurs wash with clean water & remove contact lenses if worn and safe to do so. Do not swallow - if this occurs drink plenty of clean water. Skin contact should be kept to a minimum, wash skin after any contact with soap and water. If any symptoms persist, seek medical advice.
Product contains: Aqua (water), Denatured Alcohol, Other Ingredients. Use only as directed. Protect from direct sunlight. Keep out of reach of children. Alcohol content <24%
To environmentally top-up the original 100ml foam top Formula 3D dispensing bottle:
Unscrew the foam top from the original 100ml Formula 3D dispensing bottle. Make sure the silver foil seal is pierced suf?ciently to accept a liquid top-up. Place the 100ml dispensing bottle ideally in a sink or on a ?rm level non decorative work surface.
Give this 500ml bottle a gentle shake, then remove the lid and pierce the silver foil seal using a thin biro type pen, forming two holes opposite each other in the seal for better controlled pouring.
Holding the bottle with the two holes in the seal vertically to each other, carefully top-up the 100ml dispensing bottle. A small funnel or syringe may be used if required. Clean up any spillage with paper towels and/or a water dampened absorbent cloth.
Specially formulated for use with FFF/FDM 3D Printers
Kora Formula 3D® – FAQ
What is Kora Formula 3D®?
Kora Formula 3D® has been specifically formulated to allow secure fixing of the first layer of a 3D print to the 3D Printers build plate – heated or none heated – during the 3D printing process. It is formulated from a combination of specialist Polymers
It is designed to hold the 3D print firmly during the printing process, but easily allowing the detachment of the print from the build plate once the print has completed
Kora Formula 3D® is a safe to use non-flammable non-CFC aerosol water based product with specially formulated multi-polymer mix to hold the first layer of the 3D print firmly to the print bed, which can be made of glass, plastic self-adhesive sheet, acrylic, ceramic, aluminium, painters tape, Kapton tape, PEI and most other surfaces used for 3D printer build plate surfaces
Because Formula 3D® is primarily water based, it is safe to transport without the need to show the 'flammable' warning sign. There is a small amount of denatured alcohol in Formula 3D to accelerate its drying time when applied to a 'none heated' build plate – but not sufficient to make the product classified as flammable
How does Kora Formula 3D® work?
Kora Formula 3D® works with most of the popular 3D printer filament types (ABS, PLA, HIPS, PET-G etc.) and is capable of withstanding build plate temperatures in excess of 80c. When the 3D print is finished and the build plate cools, no tools or excessive force is usually needed to remove print from the build plate surface (dependant on surface)
How to store Kora Formula 3D®?
Because Kora Formula 3D® is water based it should be stored at room temperature in a cupboard or on a shelf protected from frost or freezing and away from direct sunlight
What is the usable life of Kora Formula 3D®?
Once opened, Kora Formula 3D® has an industry leading shelf life of approximately 2 years (24 months)
How to apply Kora Formula 3D® to the Build Plate?
Simply shake the 100ml bottle a couple of times, pull (don't twist) off the protective top cap, press the foam applicator down 2 or 3 times on the build plate and spread the Formula 3D® evenly in a thin layer across the area to be printed on using a crisscross spreading motion. Allow to dry if using with a none-heated build plate or continue to heat up build plate to accelerate Kora Formula 3D® drying time. Avoid applying Kora Formula 3D® whilst the build plate is hot – the formula will dry too quickly on the foam applicator pad
Frequency of re-application of Kora Formula 3D®?
It is best practice to always re-apply Kora Formula 3D® to any areas of the build plate that have had previous 3D prints removed from that area
Build plate temperature settings to use Kora Formula 3D® successfully?
You should follow the temperature settings recommended by your filament manufacturer. Kora Formula 3D® will work with almost all filament temperature settings
I want to distribute or purchase larger quantities of Kora Formula 3D®?
Please contact us at customerservice@kora.co.uk to discuss distribution or purchase larger quantity of Kora Formula 3D®
Kora Formula 3D® industry unique economical and ECO friendly top-up option
To avoid worldwide production of any unnecessary plastic bottles including CFC based aerosols, Kora Formula 3D® offers an industry unique economical and ECO friendly top-up service. There is a 500ml bottle of Kora Formula 3D® available to purchase for frequent users of Kora Formula 3D®. This will allow the originally 100ml supplied foam top dispenser bottle to be easily re-used and 'topped up' multiple times, simply by unscrewing the top of the original foam top dispenser bottle – saving money and multiple plastic bottle disposal. There is a sample sachet available to 'try before you buy' a bottle of Kora Formula 3D®